Welcome Aboard! Now please check your email...
Your book is on its way! Open the email from Tina Glasneck...
Follow these simple steps to download your book.
Readers have told me how much they've enjoyed meeting Lady Hel, the goddess of death from Norse mythology, as well as how much they love her series. She is a cornerstone of so much of my writing world.
I'm running a special offer at the moment. For a limited time, fill your eReader with the first Hell Chronicles Box Set at a generous discount.
Hellish a paranormal romance, sets up the stakes for the Hell Chronicles series, an urban fantasy with romantic elements, mythology and tons of twists and turns.  What happens when the  world is torn apart in this battle between the paranormal, humanity, and the gods?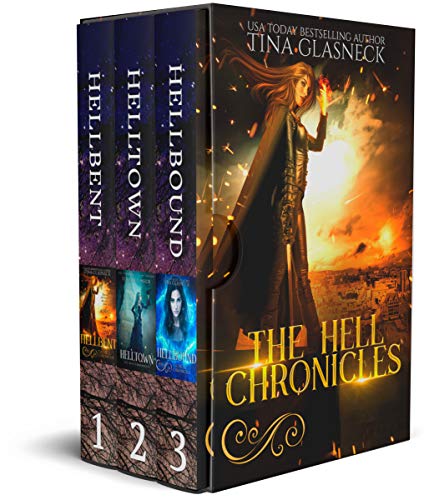 The gods are jerks. What happens when they show up?
Seemingly ordinary human Sif has the fate of humankind dropped suddenly into her hands when an exiled goddess pays her a visit...
Join Sif, as the odds are stacked against her in this tale of ever-increasing dangers. The battle for Asgard comes to Earth.
Meet the Norse Gods, including Thor, Loki, and Lady Hel, and join the adventure in this limited edition 3-book mythic fantasy boxed set.
Read this action-packed and thrilling series. More than just the 9-worlds are at risk, but also the end of the gods.
In this game of the gods, who will win?
This 3-book boxed set includes:
- Hellbent
- Helltown
- Hellbound
1

Check your email

Check your email now to find our confirmation message

2

Find the email from Tina Glasneck

Look for the subject line "Free Book -Hellish" and open the email

3

Make sure you mark emails from Tina Glasneck important

Make sure you mark emails from Tina Glasneck as important so you will get future updates about her new books.

4

Click the link in the email to download your free book

Click the link in the email from Tina and then click inside to download your book.