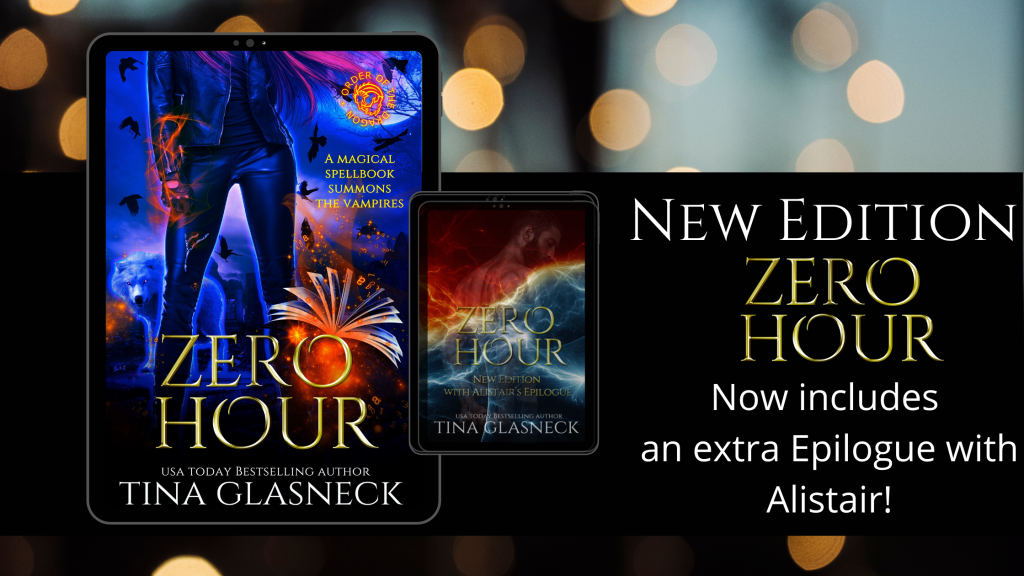 STOP! If you haven't read Zero Hour, don't read any further, as this is the epilogue created specifically for that tale! You can download your copy of the tale from your favorite retailer here.

Although the Order of the Dragon series is an Urban Fantasy series, it also contains a slowburn romance between Alistair and the prophesied seer and novice witch, Leslie. Of course, he'd given up on true love centuries ago (not saying he didn't try though).
Of course, if you like to know the ending of a book before you finish it, or like to take a peak at the end before you read through it all, then no problem (trust me, I too take a peek at the end of a novel before I read it — well, especially with physical books (not so much with ebooks).

Okay, so, I am going from the position that you really wish to read this epilgoue. I mean, I will no longer stand in your way.

I hope you enjoy this snippet of our dragon shifter, Alistair!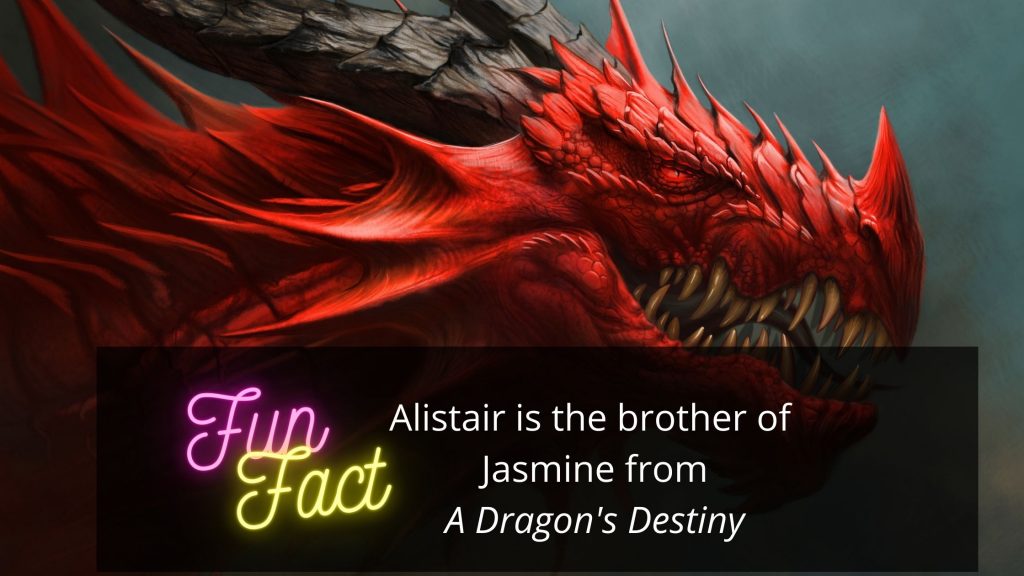 Alistair
Alistair stood in the hallway of the seer's apartment building, waiting for his grandmother to allow her the moment she'd craved: that of goodbye. Of course, so far, he'd had no dealings with this magical woman.
The sweet scent of old magic—that smelled of frankincense and myrrh—wafted around the wooden apartment door.
Freyja came to stand before him. Her long, wheat-colored hair floated around her, while her face shone as if moon kissed.
He bent his knee.
"Rise, grandson," the melodic voice of Freyja moved across the space, "as the path you find yourself on, is not one you will do alone. She will remain in danger, and the Order must look after her."
"Grandmother, I am based in Scotland, not here in the city."
"But the wolves and all of their assets are at your avail and must be used. You must now focus your attention on protecting the seer from all who might wish to use her."
Alistair waited for the other shoe to drop and shifted his weight from one foot to the other. His thoughts filled the pregnant silence. Surely, his loneliness could be felt by all around him. Even when he wasn't looking, it wrapped around him like the scales of a dead stinking fish.
"I know of your pain," she continued, "and it is not good for one like you to remain alone." She placed a warm palm on his shoulder. "It is time that you find the one who completes you."
Alistair tried to reseal the dam of emotion that shook within. He cleared his throat. "I don't have time to date, grandmother. I am—"
"Responsible for keeping the apocalypse from occurring. Yes, I know, dear Alistair, but your fated mate will strengthen you even more than any magic might. And for that to happen, it is time for you to let in someone. I have spoken with Oya, and she agrees with this alliance."
Oya, the Yoruba warrior goddess, didn't provide her blessings randomly either. The eternal circle, where the gods met to discuss politics and create alliances, was also known for its matchmaking.
"I thank you for your advice, grandmother, but I don't need fate to throw me a bone." He didn't wish to counter anything his grandmother said or to be disrespectful, though. He sought to move around her toward the apartment door.
"When the fates speak, even you will not be able to walk away."
Before he could respond, Freyja disappeared, and he entered the apartment.
"Myrtle," he nodded to the ghostly form pacing before the large window.
"You will not hurt or punish her for using the book, will you?" Myrtle asked. She wrung her hands, and her lips thinned out in concern. For a ghost, she looked tired and worried.
"I am here to ensure that the threat is over," Alistair pulled back his shoulders. The room seemed smaller, the more he spoke. "Just because the book is gone doesn't mean those who seek her will stop trying to get her, and without proper protection, she will be in danger."
"And that is where the Order shall come in?" she asked.
"Yes, in the shadows, as directed by the gods themselves."
The Order was the law enforcement arm of the dragon's reign and he, its head.
"It must be serious bringing you here." He watched her gulp.
"Yes." The word slipped out without much prompting. "But for this to work, you must adhere to our rules, and that includes making sure that magic stays hidden." He didn't want to mention repercussions. Myrtle's file at the Order was thick enough.
"I can. I will do that," she said.
He could hear the seer sniffling down the hall. A burning filled his throat as if he too wished to release pent up emotions. How could this be? "Good, now show me your granddaughter," he gruffly commanded.
He followed Myrtle toward a backroom. His heart thudded in his chest and loudly in his ears. Surely, even Myrtle could hear it. His palms went sweaty, and for the life of him, he couldn't decide from where the butterflies in his stomach suddenly came. Parched, he licked his lips to push down the lump forming in his throat.
The door opened. The fire pushed down on him, and every fiber of Alistair's body burned. His heart's thudding quickly became thundering, and he stared at the woman before him, who sat on a queen-sized bed, cross-legged, holding a letter. But intuitively, he knew the envelope wasn't the reason for her tears that fell like raindrops.
For a moment, in only inhaled the sight of her: Tight red coil curls framed her heart-shaped bronze face, a face he already loved?
What was happening to him?
She glanced up, and her amber-colored eyes sparkled, and kissable lips parted in an "O." Caught in the undertow of her gaze, he forgot to speak.
"Um, I don't think you should be here," she said. She eased toward her bedside table.
Gran swooshed into the room. She waved her hands in front of her body. "You needn't worry, Leslie. His lordship is here at the gods' command."
A look passed between the two, which he couldn't decipher.
"Lord? And who are you?" She turned her questioning gaze back his way. The air sizzled between them. His fingers longed to trail along her arms, feel her warmth on his skin.
Dragon scales flared up on the skin of his inner arm, unsummoned. A tsunami wave battered against his resolve. His dragon mentally roared the word he'd never thought to hear, "Mine."
Keeping her safe would only be the beginning.
As quickly as the storm formed within, a calmness came, but not from him, but her. Without his asking, he felt her warm aura pushing energy his way.
"No mind that," he whispered in a low baritone voice filled with promises he hoped to keep. Leaning forward, he puckered his lips and blew the magical dust into Leslie's face.
"Not again?" she coughed and collapsed back onto her bed, falling asleep. For a moment, he stood with Myrtle at the end of Leslie's bed and watched her.
He didn't think to ask how she'd remembered the last time of the powder in her face
"The gods give and they take away," Myrtle tsked. "I take it this is only the beginning of the adventure, my Lord?"
"It's best that she forgets everything that happened even that with her father's visit."
"But the threat isn't over, is it?" Again, ghostly Myrtle wrung her hands.
Alistair didn't think to respond. The fewer people who knew the rising threat of the rogue vampires, the better. And now, having seen Leslie, he wasn't going to let her go.
Stalking away, his dragon innerly paced and made plans.
It was not just to keep her safe, but to woo her to become his one, true mate.
Finally, the dragon lord smiled in anticipation.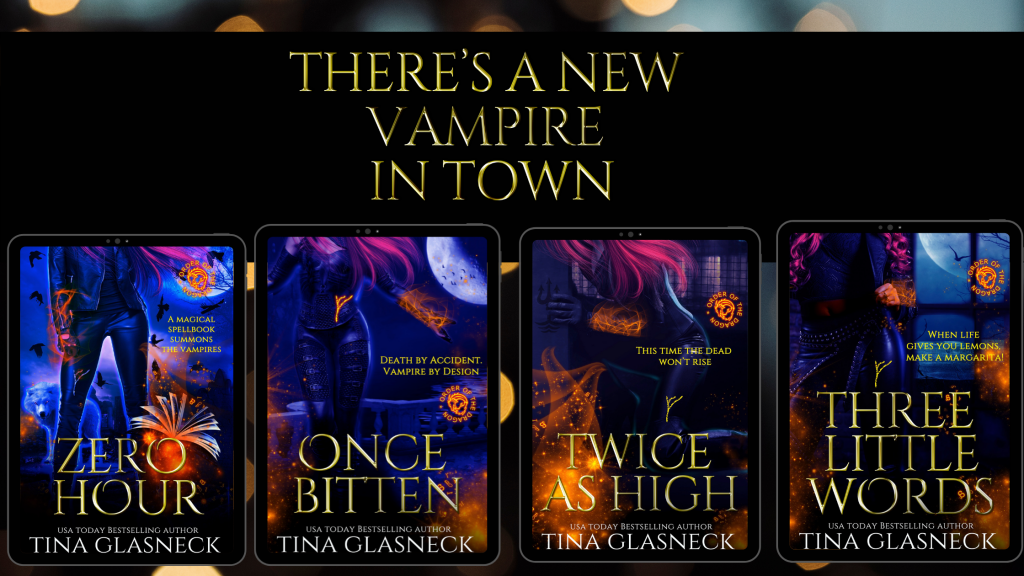 I hope you enjoyted this deep dive as it sets up everything for the new edition of Once Bitten.
***

if you haven't read Zero Hour, you can grab it here. And if your appetite has been whetted to read more, head on over and download Once Bitten!