It's my favorite time of the year, and this month, I will be posting Hunting the Undead as a serial. A new episode posted every Thursday!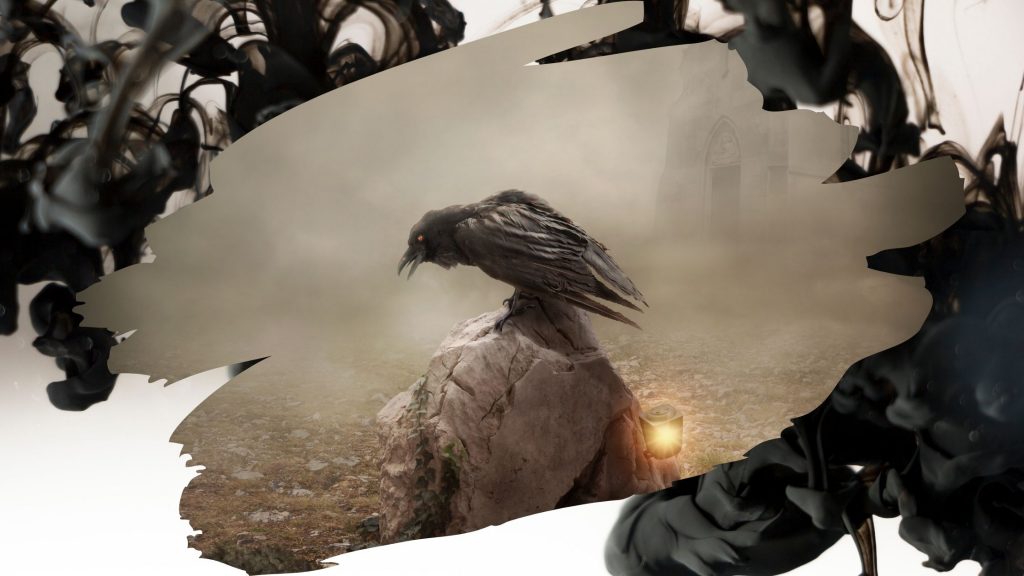 The dead couldn't hide from me.
I moved with ease through the rainy streets, following the source of the stench. The light breeze carried the copper scents of the city. I sifted through the city's smells: garbage, urine, and, blood while patrolling my area. The rain would mask the odors for most, but not for me. It was probably the talent that had gotten me accepted into the academy—my acute sense of smell.
There were a number of undead that sought to call this city—my city—home.
I checked my watch. Only two hours until my shift was over. It wasn't easy to think about things to do after work, but somehow despite the apocalypse, I'd found someone who captured my attention. Thinking about him, I smiled a little bit. Last night, our third date, Frank made me believe that a brighter future awaited us.
Maybe it was the attractive, post-apocalyptic cop uniform that attracted me to him; there was something about a shiny badge. Or, perhaps it was his perfect black mane. I loved its silkiness. The way he moved and made me his.
The tracker in my ear beeped. "Are you okay?" Jade, my communication's officer, asked in my ear. "Your vitals are fine, but your heart rate has spiked. Are you in trouble?"
Jade at the super-secret Office of Supernatural Wights & Grimness, called SWAG for short (Supernatural Wild Ass Guesses), was my eyes and ears, my connection to things that the pantheons needed to be taken care of in this world. My job was simple: capture the undead and return them. So far, it was easy-peasy.
I knew what I had been thinking of, and it wasn't about hunting the undead. "Sorry, I was thinking about my plans for tonight."
"Oh, Officer Frank, huh?" Jade teased.
She was the one who had introduced us. I knew they were friends, so I tried to keep those personal details tucked close to my chest.
"Ah, Frank," I gushed. "He really is a keeper."
"I told you. You should have taken me up on my introducing you two months ago."
"What can I say? I like to drag my feet," I lied. It was easier to lie about why I kept people at arm's length than to open up and admit I had issues.
We all had issues.
A loud buzzing resounded, breaking our conversation. My bio smart contact lenses turned on. A computer in my lenses, controlled by my gestures, could zoom in, transmit video to my communication's officer, and scan individuals to compare with the facial recognition database for subjects and species.
"What's the summoning, Jade?" I asked.
"The wraiths were just sent back through the portal and transferred to Kara's possession," Jade commented. Kara was the Valkyrie soldier who acted almost like a liaison. Each pantheon had one, someone who us lowly people on Earth could talk to since the gods practically ignored us.
Rumors swirled that the gods were busy throwing us all away, refusing to deal with us. I wasn't so sure. With all the magic here now, why would they abandon us? Maybe we needed to walk through the fire to find faith?
"Was your big guy still tied up with eating goats to later reincarnate, or drinking tons of mead? Is it too obvious I'm talking about Thor? You and your Thor lust. I think you might want to give it a rest."
I mentioned Thor because he was the one god everyone knew. He was the equivalent of a superstar; the one everyone wanted to meet. Even now, if I were to head over to one of the shanty towns, I'd find someone who claimed to see his hammer, or be him.
"If I mentioned one of his lesser-known brother's I'd lose my Norse card." I tried not to laugh at that. "I did once date Thor's cousin, though," she admitted. "Yep, that didn't work out, either."
"Why?"
"He didn't quite know how to use his hammer." Jade's laughter boomed in my ear, making me chuckle. She was a great distraction in a world that required my solitude and compliance. I just had to follow the rules: never leave a body behind, never leave a witness aware, and never harm a human. This secret organization frowned on attention, and if trouble came your way, you'd be left to your own devices to figure it out. Talk about a fair-weather friend. Most thought I was just a rental cop anyway, since no official badge rested on my chest. I didn't mind it. It was good to be underestimated.
"Your sister, Quinn, has been on the move," Jade said. "Raven, don't you think you should give her a call?"
Messing with Quinn was always a bad idea. Like chicken pox, she always left a mark.
"Adoptive sister." My voice dripped irritation, all gaiety gone. Quinn was my least favorite topic. She was toxicity wrapped in plastic grins, a bad penny that I could never get rid of.
"Still family."
I tried not to roll my eyes. Jade could afford to say that. Family still surrounded her, while Quinn was all I had left. Her and memories from a house of horrors that raised us both.
I shuddered. "Not the same thing."
I focused on breathing. I needed to change the topic. Thoughts of Quinn made it hard to inhale, instead it felt as if an invisible weight was sitting on my chest.
"Sure, sure. Well, Midgard is pretty quiet tonight. I'm almost done patrolling the block," Jade said.
I nodded. It was almost too quiet. There had been rumors about the paranormal citizens. Most laid low, many didn't even want to register their paranormal status, but reluctantly did. But it was the few who viewed humanity as prey that were my concern.
The world as it once was ended long ago, crushed by an invasion of Black Elves who had found their way into Midgard. They subjugated humans, but it opened the way for others to be more out in the open. They'd been living in the shadows for too long, but now, they could exist—even if it meant humanity's downfall.
When the curtain that separated supernatural beings from the rest of the world fell, I should have taken notice. The Dark Elves were the first to arrive, and humanity responded by embracing them. They told us they were here to make peace, and as a member of law enforcement, my job was to help make that happen.
The police department was mostly disbanded, and those who were kept on, were tapped and secretly placed in new organizations, all monitored and led by the Dark Elves. Although the police still existed, the few humans who remained in their ranks were few.
Every officer was given a mana-laced potion. It was supposed to make us stronger, fight harder, and should we get injured, it helped us heal.
But for others, this drink seemed to unlock a latent gene. We called it LAL—it stood for limulus amebocyte lysate—but on the street, it was mana. And it could make the most ordinary of people feel heroic, almost super.
Once these new classifications of paranormals came out into society, the SWAG was formed, and I signed up.
I'd always felt called to the unusual.
The SWAG came about as a result of that and working with the Dark Elves hadn't been that bad. They kept everyone in line, while our division tried to prevent the paranormals from preying on the humans who the Dark Elves needed.
I'd already taken the potion for the evening, and after checking on my health and mana levels, things were in perfect order.
On the black, wet asphalt, I continued to track him. The pungent smell of blood stung my nose, and it seemed to be moving, the scent coming in from different directions, but all from the same source. I wasn't sure what this one had planned, but they all escaped the underworld with grandiose plans of making the world pay.
"Have you been down to that new bar? I've heard we have a god down here from Asgard," Jade asked.
"Thor is here?" I almost stumbled over my words asking who. The gods hadn't yet found a reason to be down here. It was rumored five years ago that they might be active. The sound of tin garbage cans being knocked down called my attention.
As I uttered those words, I saw one of my young confidential informants calling me over to him. He stood in the dark alleyway, a wet wool cap dripping down on his face. He should have been home. But home was a luxury that most humans didn't have during this time.
"Hold that thought, Jade." As I crossed the street, Stefan the Thief, entered the alley. The stench rose ever higher, ever closer. In that dark alley, I'd find my prey. I was a hunter, after all.
"Your location has been noted, Officer Raven. Standing by."
Blinking, my contacts zoomed in, taking in my surroundings. Even the rain couldn't compete with the clarity of the data they provided when activated.
I rounded the corner, walked up the alley a bit, and found Stefan. How he'd tracked down a coin to transverse the River Styx wasn't my responsibility. I didn't ask questions. I didn't wonder why Stefan appeared to be no more than sixteen, dirty, and hungry with wild eyes that darted left and right. "What info do you have for me, Stefan?" I asked.
"Charon told me to tell you that the worlds are at war." He practically folded in on himself to seem smaller. I felt sorry for him. He was all knees and elbows: tall and lanky. He lowered his voice to a harsh whisper. "There is talk that one has escaped Tartarus, and he is raising an army to wipe this place out."
"They all say that, Stefan. No, don't you worry about that. You should get back underground before the guards come checking IDs." But something bothered me. Since when had he started working for the Greeks? "You're working for Hades now?"
The longer I worked in this division, the more I understood that, while some humans decried the invasion of the Dark Elves, many others saw it as an opportunity to rise in the echelon. Thus far, I'd seen a number of those who could afford to live in the high rises that touched the sky, while the others continued to live on ground level, or if too poor for that, in subterranean shanty towns.
"I work for whoever will pay me."
I tossed him a coin. He'd need it more than I would. He quickly pocketed the coin and raced away, but not before a masked, tall figure appeared. With big broad shoulders, and decked out in gothic black, he oozed a menace that might have sent a weaker person scurrying away. The mask must have been for added effect.
It was as though he'd followed the rigorous art of Madam Tussaud and created a modern-day funerary mask. Its surface was covered with a mixture of brown dirt and tangled roots. The eyes had been cut out, and very human eyes peeked through.
Even though it hid his face, I could feel the power pulsating from him.
I shook my head. He was just another whack job with magic. Quickly, I zeroed in on his biometrics. Vampire? No. Draugr? No. It pinged on the third try, finally, identifying him as a necromancer.
He smelled earthy, like he'd just risen out of a fresh, deep grave.
"Are you getting this?" I asked, but Jade didn't answer. Only static responded. He must have been jamming my com device.
I took a step back, noticing that in this alleyway I was pretty well pinned in. Necromancers had something unique about them. Their energy field revealed more of a vibrant red that circled them, while nonmagical human auras were brighter.
"So, we finally meet, and alone. I've heard so much about you and this place which you keep safe." His voice held more bitterness than bite. He smoothed back his blonde hair, and my hands moved to my blades.
"Tsk, tsk, is that how you greet a friend, Raven?"
"Who are you?" So far Jade had not confirmed an identity. To me, he was just a necromancer, and an undocumented one at that.
"I don't know who you are, but it would appear that your intentions are not honorable, and interfering in the duties of an officer of the peace comes with repercussions."
"Before this evening is over, you will know my name." He leered. "You think these nobodies have anything on me and my skill? Soon, you shall all see what it means for the dead to rise."
I wasn't going to wait for him to act. The more time he had, the more likely he was to use or find a weapon that could harm me.
Footsteps pounded behind me. Then three humans with ragged clothes approached, brandishing machetes. They swung them effortlessly, slicing through the air. Their heads wobbled on broken necks, while one dragged what appeared to be a broken leg behind him.
They were the dead reanimated.
"Come, my puppets," the necromancer commanded. "Let's make the officer dance. She is powerless to stop you."
Sweat pooled at the base of my spine. I was a peacekeeping officer and having to defend myself wasn't a regular occurrence. I'd trained for this, though, in the academy.
Turning rapidly, I released a rapid barrage of enchanted daggers, as supplied by the elven overlords. My weapon of choice. They were made of a blackened metal that glowed green when the magic was active.
They didn't miss.
Quicker than I could blink, they sliced through the ghouls like butter.
But still, they continued to advance.
With these weapons not working, I had to reach into my unofficial sanctioned methods.
Some children of the gods didn't like to use their innate powers. My mother was a bitch, though, I assumed, and I was sure it would drive her mad to see me fighting back against her, tooth and nail.
There had been enough speculation as to my gene pool, and all those ancestry tests just came back unreadable. Must have been the human part of me that decided not to give a damn anymore.
Instead, I had the great honor of living in the system, a god with no throne, adopted by mortals.
It wasn't until puberty hit that things got interesting. That was when I drew my first sigil, and something passed through—my pet hellhound, Crow.
Crow wasn't like any dog I'd ever had. He taught me things, listened to me, and made it possible for me to understand the sigils. Crow even helped to make the entrance into puberty bearable, until one day he disappeared. Still, he tended to show up when things were going to hell.
Maybe I wasn't anything special, but the truth was, it didn't matter. All that mattered was, my blades were authentic, my punches hard, and the sigils still worked.
An arctic blast embraced me. My teeth began to chatter, and ice crystals formed on my forearms.
"Auf!" I ordered, and an ice-blue sigil appeared. It grew bright, until the light resembled that of a fallen star, and as one of the three ghouls moved into its center, it became trapped inside.
One down.
As I went to cup air and attacked the second one, it snarled and chomped at me.
The rules were simple: don't harm the humans.
The static in my ear ceased.
"Jade, are you getting all of this? Who is this guy?" I huffed and moved in to drop kick the ghoul, pushing him through a stack of pallets. The third one moved in. I had a feeling that this was to wear me down, to test me.
"I'm scanning him now," Jade said. I could hear her fingers tapping the keyboard.
Something was draining me as if the drink I'd taken had limited my abilities. I could feel myself growing weaker.
"Auf," I ordered again, hoping to build a protective shield around myself.
Nothing happened.
"Hurry, I'm getting winded here." As soon as I knocked him down, he bounced right back up, and they tried a simultaneous attack. My fists and feet blocked their attacks, pushing them back towards the sigil.
"Your mana is low. You don't have enough reserve to create a barrier, Raven. You need to fall back."
I'd been training for this job for years. Retreating was not an option. "If we let him go, who knows what is going to happen?"
I scanned the area to locate him again. His ghouls had distracted me for too long, and I'd let them. Rookie mistake. Before I could beat myself up, a glass bottle crashed into the back of my head.
"You can call me Lance, dear Raven."
I collapsed to the ground, and I could have sworn I saw Crow sitting in the sigil with the ghouls.
That wasn't good….
---
Can't wait until the next episode, continue reading with Hunting the Undead!


Survive the night. Stay alive.
Some girls have all the luck, but for Suzy Raven, a paranormal investigator who works with the different pantheons, luck just ran out.
Convicted of murdering three humans, when the prison doors slammed shut behind her, she counted down the days until she'd be released.
Without any witnesses and with innocent blood on her hands, she was supposed to rot in that cell, until her lawyer found a way out: an opportunity.
She'll have to spend the night in the old MacGregor estate. It was supposed to be haunted, a place of brutal evil. But why fear something imaginary, when there was enough to fear in reality?
If she can survive the night, she can walk away scot-free.
After all, monsters aren't real, or are they?