It's official! The Astrobotic Peregrine Mission 1 patch has arrived, and it's glorious.
Today's a great day for an update on this life-changing project, at least for me. I'm at my desk for the first time in a while, to again work. This year has proved challenging with so many health struggles, but still, I look ahead at all that is to come, with a hopeful heart, and kindness as my guide.
What is Astrobotic?
Astrobotic Technology develops space robotics for space missions. As a part of its first commercial launch, the Writers on the Moon project will send 125 authors' work in a lunar time capsule.
Going to the Moon?
Since joining the Writers on the Moon project, I haven't quite looked at the moon the same way. But looking back, well, the moon has played a part of my life for a while.
It's as though the moon inspires me to keep moving forward, not allowing shortcomings to determine my every day.
Fun fact, in high school, I was called Moonbeam. I guess this is just meant to be for sure!
There is something about the moonlight that now gives me hope—hope for a better tomorrow. In the stillness of the night, I cast my gaze above and breathe. For some reason, there under that light that envelops us all, I feel seen, heard, and understood.
It is as though that bright ball in the sky eases away my tension, and under the night sky, during the celestial dance, peace is my bounty, purpose my song.
As one of the authors with the opportunity to send my catalog of books to the moon in a lunar time capsule, I rejoice every step of the way. I'm well aware that this is not an everyday occurrence. It is about so much more than just me. I like to think that it will give others hope, too, just as it has acted as a balm to my soul.
Yep, my work is going to the moon!
I'm still finding my way, but forever grateful for the moon's guiding light to illuminate my path.
The Patch
Here is the Astrobotic Peregrine Mission 1 patch, as well as a patch created for me! (I hope to one day soon get my patches up and ready as well, once I have the green light from the WOTM project).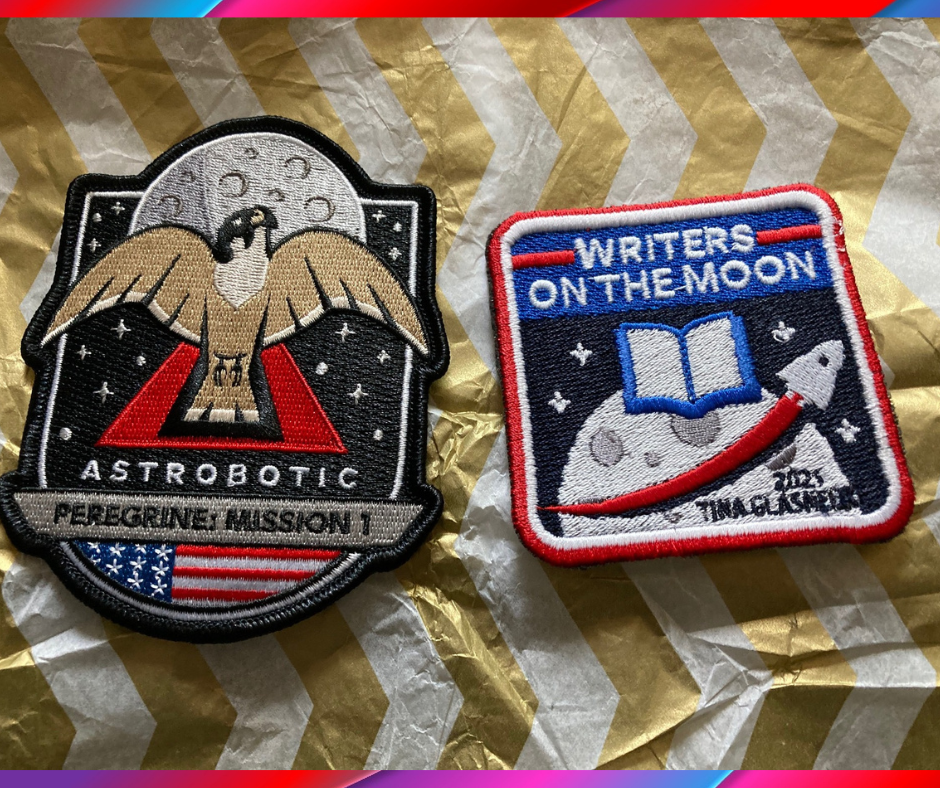 All of the space news has me excited. How about you?
Want to learn more about Writers on the Moon? Read the first blog post announcement. Click here.
Of course, you can read the official reports from Astrobotic's official press release, here.
Writers on the Moon is also onboard the Lunar Codex.