It's December 5th, and that means… Krampus is coming to town!!!!
Over the years, I've seen his popularity grow. But I thought a bit of an introductory post might be helpful in letting you know who this figure from lore and legend is…

Who is Krampus?

Krampus is the half-goat, half-demon, bad Santa, dates back to pagan times. He has sharp teeth, a long tongue, large claws, is tall, hairy like a goat and with cloven hooves, has a long tail, sometimes can be seen with chains, and carries a sack and switches. He is said to appear to take away those who have made the naughty list.
Yep, that sack isn't for toys but to stuff the bad boys and girls (and adults) into it.
This holiday figure has gained attention over the years, even with some Christmas horror movies, like the movie named after him, called Krampus, A Christmas Horror Story, Krampus: The Reckoning, Krampus: The Christmas Devil, and more (as listed on IMDB)
Yep, he even has a song "Karol of the Bells".
As Krampus becomes more popular in pop culture, we see more with the Krampuslauf (The Krampus Run).
In Southern Germany, Austria, and even here in the States, many places participate in Krampus Night by dressing up, watching the Bad Santa parade, and even enjoying this anxious-filled yuletide. Yep, it's sort of like if Halloween and Christmas had a terrifying and shaggy baby with horns that walked around with large cowbells, a sack, and switches.
He has pagan origins. Some mention that Krampus was once a fertility god, and could be associated with Pan—at least physically and that he was part of the winter solstice rituals. Legend even proclaims him to be the son of Lady Hel, from Norse mythology.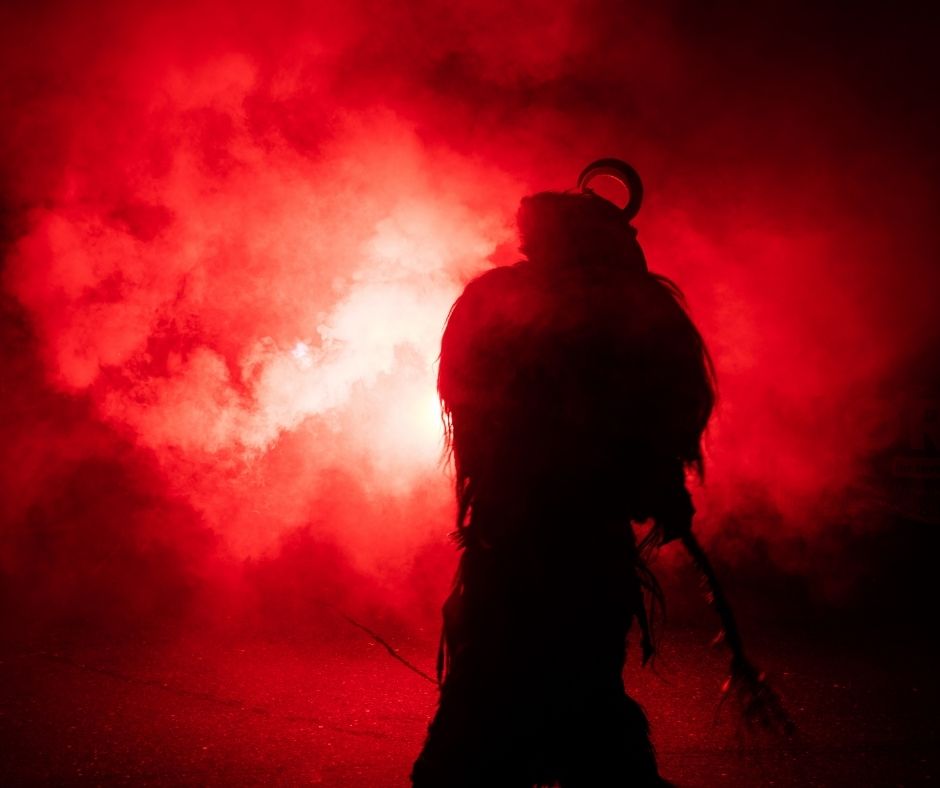 Why is Krampus associated with St. Nicholas?
In Germany, December 6th is known as St. Nicholas Day, when St. Nicholas will place sweets into the shoes of good girls and boys. But on the night before, St. Nicholas (St. Nick) goes from house to house with Krampus (who also is wearing chains). You see, St. Nicholas was a known exorcist. This would then make Krampus the one who is doing St. Nicholas's bidding – totally changes the idea of Santa Clause.
I'm happy to share my love of lore and legend, and since Krampus plays a major part in A Half-Cocked Vampire: A Vampire Urban Fantasy, I invite you to continue to dive into this holiday tale, now knowing about the magic of Krampus, too!