I'm so happy to share that The Darkest of Dreams anthology (a horror cryptid anthology) received the coveted Projects We love badge!!!
This is huge, and we're so happy that you are jumping in to support this supernatural horror anthology (think more Stephen King than Texas Chainsaw Massacre).
So, are you using Kickstarter? Are you aware of what it is?
Kickstarter is a funding platform that helps creative projects get "started" and off the ground. 
For publishing, Kickstarter is another way for independent and small press authors to gear up their releases, but also a way to offer an entire experience around their books.
There are tons of ways that you can support a Kickstarter campaign, too, from backing the project to even just sharing about it with your circle of friends. With the holiday season approaching, Kickstarter will be a great way to find one-of-a-kind gifts for those on your list too.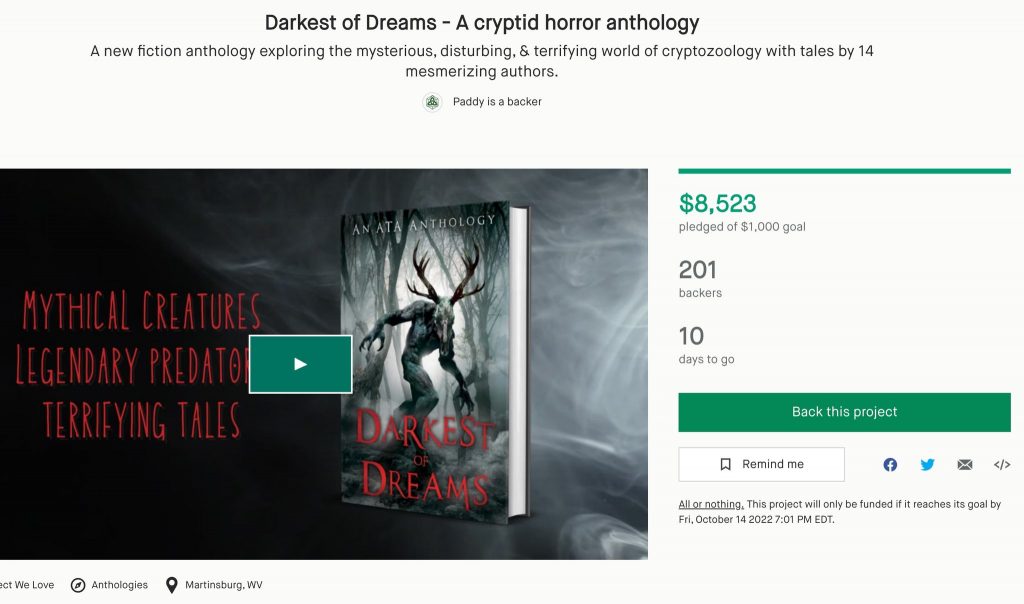 Thank you for believing in this project! We're in the final 6 days of this Kickstarter campaign and are closing in on $10k for this anthology. We are ecstatic about the massive outpouring of support that we've received. Thank you so very much!
Now is your chance to back so you can get in on these wonderful creature art prints. Yes! Here is a preview of the art being created for the Darkest of Dreams for a stretch goal. Aren't these wonderful? There will be 17 of them too! 
When you support authors, it doesn't just help us but also the great creatives we collaborate with to create content. Physical art prints mean you can also have a collectible connected to this limited campaign. So, don't miss your chance for a unique gift for the holiday season and your personal collection! Learn more and go back the campaign!