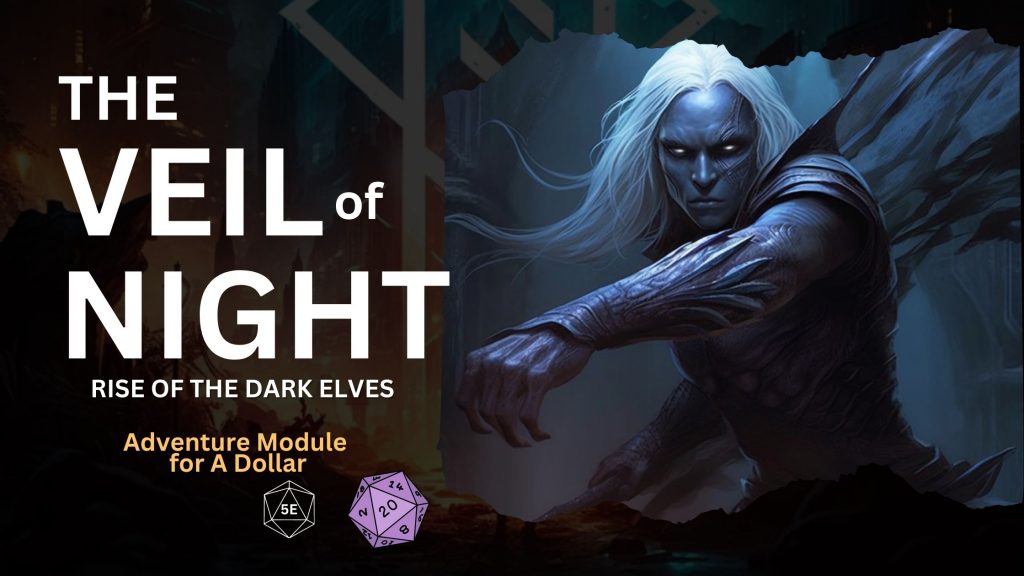 Tina Glasneck Presents The Veil of Night: A Thrilling Tabletop RPG Adventure, Now on Kickstarter
[Richmond, VA – June 21, 2023] –  USA Today bestselling author Tina Glasneck is back with a new immersive gaming experience, with her latest project on Kickstarter, "The Veil of Night: Rise of the Dark Elves," a gripping tabletop RPG 5e game. With the apocalypse at hand and the menacing Dark Elves invasion, this game plunges players into a post-apocalyptic world where survival is paramount.
In "The Veil of Night: Rise of the Dark Elves," the world lies in ruins, cities stand as mere remnants of their former glory, and humanity grapples with the harsh realities of existence. As chaos engulfs the land, you and your party find yourselves amidst the turmoil, desperately seeking refuge from the relentless pursuit of the Dark Elves. The sewers, fraught with danger, become your only sanctuary. But beware, for you are not alone in this treacherous underworld.
Prepare to embark on an extraordinary journey filled with thrilling encounters, mysterious worlds, and valuable treasures. The Veil of Night offers a captivating 5E adventure module designed for five characters at level 5. Delve into the depths of this immersive role-playing experience and uncover the secrets that lie within the shadows.
Glasneck has built a reputation for crafting exceptional games that seamlessly merge with her fictional universes. As a USA Today bestselling author, Glasneck brings her unique storytelling expertise to the table, ensuring that The Veil of Night offers a captivating narrative that will keep players engaged from start to finish.
To bring The Veil of Night to life, Glasneck has launched a Kickstarter campaign, running from June 21st to July 19th. The campaign offers backers the opportunity to support this exciting project and secure their own copy of the game at an affordable price of $1. By joining the Kickstarter community, backers can become part of the journey and help shape the future of this enthralling tabletop RPG adventure.
Glasneck invites all tabletop RPG enthusiasts, fantasy lovers, and adventure seekers to join forces and make The Veil of Night a reality. Pledge your support on Kickstarter and unlock a world of thrilling possibilities.
For more information and to back The Veil of Night, please visit the Kickstarter campaign page: https://www.kickstarter.com/projects/tinaglasneck/the-veil-of-night-a-dark-elf-one-shot-adventure-module?ref=9sp25h.
About Tina Glasneck: 
Tina Glasneck is a USA Today bestselling author renowned for her exceptional storytelling abilities. Specializing in fantasy, she's now creating game-book bundles that tie into her fictional worlds. Glasneck aims to deliver captivating experiences that bridge the gap between literature and tabletop RPGs.